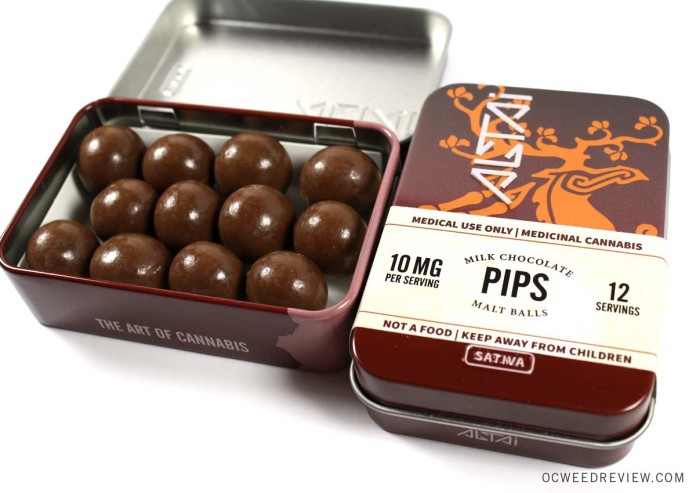 Ever since we first saw an ad for Altai edibles on our very own website, we have been fanboying for the chance to feature them to our readers.  Always a sucker for impeccable packaging, Altai nails it with their simple, yet aesthetically gorgeous design work on their metal tins, which function perfectly to keep your low dose edibles safe for when you need them.
Altai Pips are bite sized, low dose chocolate covered medicated snacks that make specific dosing easy for both the beginning and experienced patient.  For our first review, we got our hands on their medicated malt balls.  Made with infused coconut oil, there is very little cannabis taste to get in the way of the Altai experience. Chocolatey on the outside with a malted middle, the flavor is not unlike a malted milkshake.  A delightful little snack and a throwback to going to the local movie theater as a child, these malt balls are excellent when enjoyed alone or by the handful.
Providing just 10 mg of THC across 12 servings,the low dose per pip means that it is easy to achieve delicately balanced medicating, even for patients with small tolerance levels.  However, with 120 mg per package, most patients will find enough potency per tin to fulfill their needs.  Like the rest of the Altai product line, their Pips come in both indica and sativa versions to best cover the range of ailments modern patients experience.
For more information on this and other Altai products, visit their website.